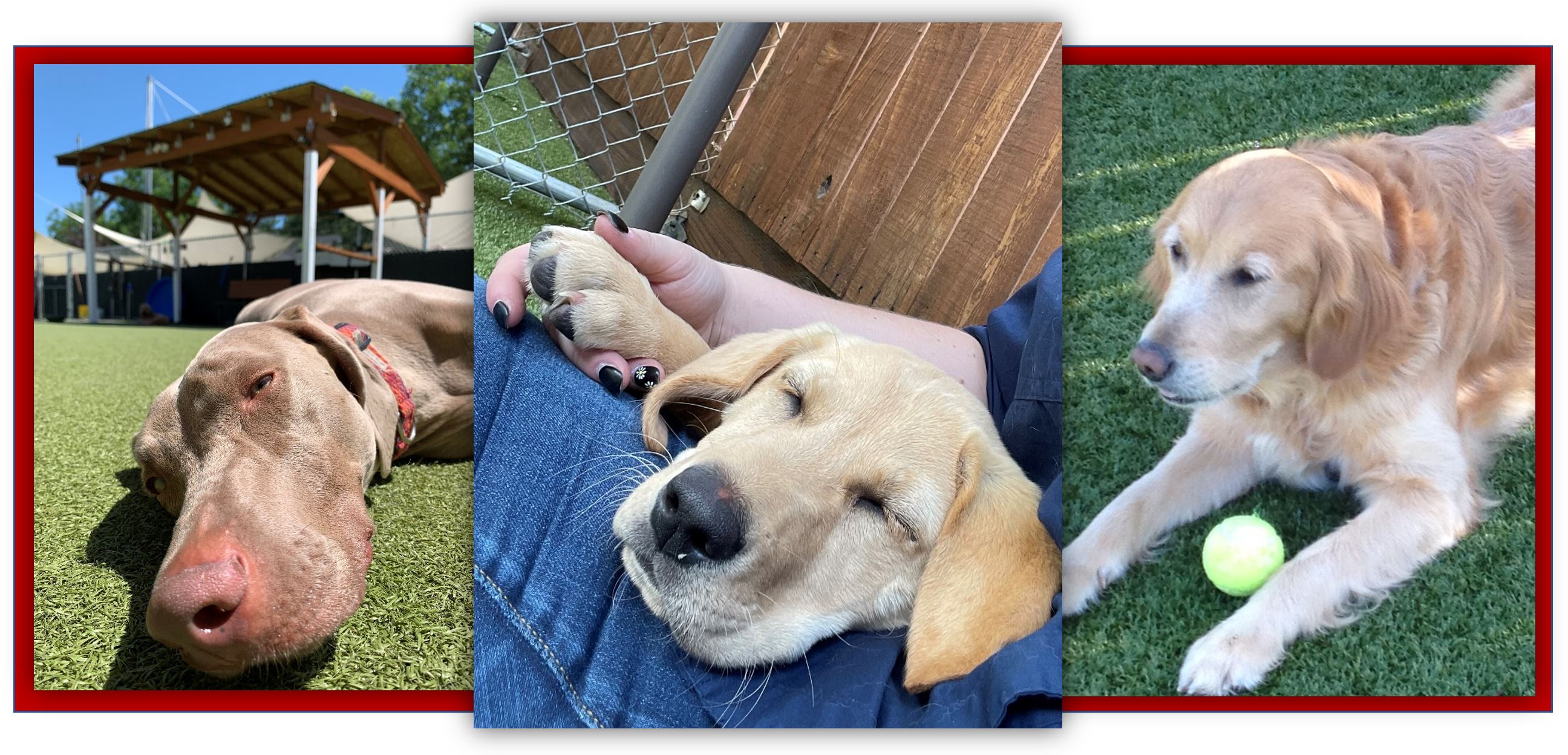 We aim to be your dog's home away from home, a place where they are excited to spend time. As with our Day Camp service, we take the time to get to know your dog, and group them with dogs of similar playstyle and temperament. Leaving your dog for any reason requires placing a great deal of trust in our team, a responsibility that we take very seriously.
All Boarding dogs participate in a full day of our Day Camp program.
Each night, dogs are separated into individual sleeping quarters, allowing them to get a full night's sleep.
While you are welcome to bring a beloved blanket or bed, we don't recommend leaving anything valuable.
Feedings are done at breakfast, lunch and dinner times. Please bring in enough of your pup's food pre-portioned by meal for their stay (i.e. eats 2 times a day = 2 bags). An extra meal or two can be helpful in case your trip is extended for some reason. This is the best way to ensure we have enough food and it's measured properly. There is an additional $20 fee if food is not pre-portioned because it is more labor intensive.
We offer a complimentary departure bath for our boarders staying more than 14 days with owner approval.
Please review our policies concerning vaccinations, spaying/neutering, quick release collars, etc.
Dogs 16lbs and ABOVE
1st Dog
2nd Dog*
Standard 1 Night Stay
$45
$40
*Additional dog from the same family
Dogs 15lbs and UNDER
1st Dog
2nd Dog*
Standard 1 Night Stay
$35
$25
*Additional dog from the same family
Dogs 16lbs and ABOVE rates apply first if dogs from both groups.
Call for pricing of 3 or more dogs
Military and Senior discounts available when paying by cash or check
Special Requirements dog option (limited availability). Cost: $15-25 extra per night additional to the rates listed above. Single boarding is where your dog(s) stay in their own outside area and indoor kennel throughout the day and night, for reasons such as having recent surgery or as deemed necessary by management. There is a higher fee because it is very labor-intensive for us to accommodate this option.